More Trip & Travel Info
Get all the updates as they happen!.
Subscribe to RSS (what is RSS?)
The Beechwood Inn, Georgia's Premier Wine Country Bed and Breakfast Inn, and its Innkeepers, are the recipients of numerous awards and recognitions for service and hospitality.
"Georgia Magazine" announced its 2013 Reader's Choice Awards in its October issue. Beechwood Inn, Clayton, Georgia, was voted "Favorite Bed and Breakfast Inn in Georgia". The monthly magazine is published by Georgia Electric Membership Corporation and is read by more than 1.5 million Georgians each month. http://www.nxtbook.com/nxtbooks/gemc/georgia_201310/#/20
9/01/2013: Beechwood Inn has been designated a Gold Level Green Partner in the TripAdvisor® GreenLeaders™ program, which helps travelers plan greener trips by identifying environmentally-friendly accommodations. The TripAdvisor GreenLeaders program was developed in partnership with the U.S. E.P.A's ENERGY STAR® program, the U.S. Green Building Council, and the United Nations Environment Programme. For more information, please visit www.tripadvisor.com/GreenLeaders.
The Georgia Restaurant Association and the Georgia Department of Agriculture announced a partnership to promote the state's culinary abundance: the Georgia Grown Restaurant Program for restaurants and food service facilities. Beechwood Inn is a Charter Member of the Georgia Grown Restaurant Program. "The new Georgia Grown Restaurant Program enables us to further promote and foster relationships between Georgia farmers and local chefs." http://georgiagrown.com/members/profile/beechwood-inn
2013: Beechwood Inn's Chefs David and Gayle Darugh were both selected as "Best Chefs America," placing them in the top 1% of our nations chefs. This selection process was accomplished by asking our nations chefs who they most respected. The process was calculated to accurately record the opinions of leading chefs about the talent of their colleagues nationwide. http://bestchefsamerica.com/
Member SELECT REGISTRY, Distinquished Inns of North America. Comprised of the 400 finest Country Inns, Luxury B & B's and Unique Small Hotels. View our quality assurance program. As a member of Select Registry, Beechwood Inn is acknowledged to be one of the Best Bed and Breakfast Inns in North Georgia.
Wine Enthusiast Magazine places Beechwood Inn in the Top 5 Destinations "for your next wine and food-focused escape," Dec 28, 2011. Beechwood Inn Named to Top Five Food and Wine Destinations by Wine Enthusiast Magazine.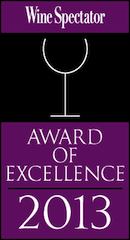 2007, 2008, 2009, 2010, 2011, 2012 & 2013: Wine Spectator Award of Excellence - Honored for having one of the most outstanding wine lists in a restaurant in the world. Beechwood Inn is one of the best wine and food destinations.
TripAdvisor is proud to congratulate Beechwood Inn on earning the prestigious 2012 Certificate of Excellence award. Our travelers consistently commend your property with the highest praise, and we recognise your 4.5 rating as an exceptional achievement. Only the very best in the business are awarded a Certificate of Excellence
Beechwood Inn - was identified as "the Best Bed and Breakfast in Georgia", by UpTake.com. UpTake.com awards are based on a careful analysis of customer reviews and expert ratings from across the web collected from over 5000 different websites and millions of customer opinions.
Triple A ♦♦♦ Three Diamond Award for 2008 - 2013 AAA
The National Wildlife Federation (NWF) announces that the property of Beechwood Inn, located in Clayton is now recognized as an official Certified Wildlife Habitat Site. May 20, 2012
Georgia Public Television's "Georgia Traveler" Series came to televise our "Wild Foods" Event. See for yourself what a weekend offers at the
Beechwood inn. Watch the Beechwood Inn Wild Foods Weekend Event on Georgia Traveler
Rated as one of the best 10 bed and breakfast inns in Georgia by "American Deams, Inc" Top 10 Inns.
For four consecutive years, inn goers have voted the Beechwood Inn as the "Best Inn in North America to Visit for a Weekend Escape," (Inn Traveler Magazine); Beechwood Inn is one of the best wine and food destinations.
Travel Writer Becky Lamb says (Jan 29, 2009): "The Beechwood Inn is the closest thing to a Napa Valley Bed and Breakfast we have here in Georgia." beckylambtravel.com
In the December 2008 edition of Points North Magazine, Author Tom Cooper said "And you can't talk about high-end dining and lodging in Rabun County's moonshine country without mention of the highly rated award-winning Beechwood Inn, a charming bed and breakfast right in the town of Clayton, Georgia.
Wine and fine dining plus lovely lodging facilities make this venue one of the top attractions in all of Northeast Georgia." In the Feb/March issue of aboutU Magazine travel writer Randy Wiles says "To truly savor the wine, one needs to be immersed in the ambiance. Gayle and David Darugh bring the best wine, food and old century charm together at the Beechwood Inn." Beechwood Inn is one of the best food and wine destinations.
Krista Reese writes in Georgia Trend Magazine (Sept 2006) . . . Innkeepers David and Gayle Darugh have firmly established the Beechwood as a favorite for food-and wine-lovers all over the country - and even around the world.
Travel Guide for Planning a vacation trip to Georgia, listing the Best bed and Breakfasts in the State named Beechwood Inn as one of the Best Georgia Bed and Breakfast
Linda M. Erbele, of Planet Traveler says: "People who choose a B&B over a mountain cabin or a franchise motel are looking for something different – something special. The Beechwood Inn has plenty of special to offer." http://planeteyetraveler.com/2009/12/05/georgia-bb-has-a-view-and-a-wine-cellar/ 12/05/09
Author Lisa Poole, Certified Specialist of Wine and Owner of The Vine Intervention says: "David, together with Gayle are totally committed to providing a unique, unpretentious, yet upscale experience that allows their guests to unwind and enjoy the beautiful surroundings while learning about wine and food. Not to be missed is the Saturday night Prix Fixe Wine Dinner" read more